Suus was the song that represented Albania in the Eurovision Song Contest 2012, sung by Rona Nishliu. It came 5th with 146 points in the final after finishing 2nd in the second semi-final.
Lyrics
Ëëë në këtë botë
Ku dashuria s'jeton më
Koha më për ne s'ka kohë -
Jo-o
Jo-o-o-o-o...
Koha më për ne s'ka kohë.
Ateroj aeroplani im
Në pistë pa drita t'shpirtit tënd
Me bërryla ngjiten sot
Ata që dje s'jetonin dot
Por të djeshmet s'kanë rëndësi
Nga detëra të trazuar u përpinë
Ëëë të nesërmet nuk do t'sjellin gjë
Vec shpresë pa shpresë e marrëzi.
Më lerni të qaj, të qaj, të qaj
Se ktë gjë më së miri di ta bëj tani! -
Se ktë gjë, më së miri di ta bëj tani.
Videos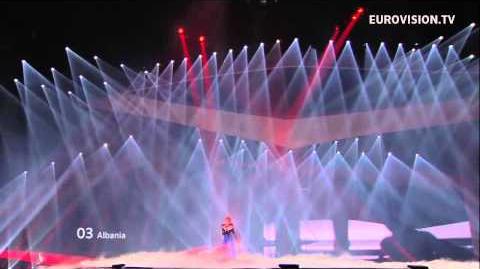 Ad blocker interference detected!
Wikia is a free-to-use site that makes money from advertising. We have a modified experience for viewers using ad blockers

Wikia is not accessible if you've made further modifications. Remove the custom ad blocker rule(s) and the page will load as expected.