WELCOME TO THE

WIKI
The wiki about the Eurovision Song Contest that anyone can edit since June 8, 2012.
About
This is the Eurovision Song Contests Wiki. This is about everything Eurovision from participants to songs. Please make a page. The Wiki is gradually growing currently, so we'll appreciate all helpers. Just type the name of your new article in the box in the help section, click create and edit away! Though before you edit, please check our Blocking Policy here to see what is and what's not tolerated on this Wiki.
The Eurovision Song Contest
[

edit

]Featured Article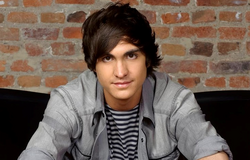 Roberto Bellarosa (born 25 October 1994) is a singer from Belgium with Italian origin. He came to fame for being the first winner of The Voice Belgique (The Voice of Belgium). In the Eurovision Song Contest 2013 he represented Belgium with the song "Love Kills". He performed in the first semi-final and ended on the 5th place, thus got enough votes to go through to the final. In the final he got 71 points and ended on the 12th place out of 26 participants.

Roberto Bellarosa is originally from Wanze, Walloon part of Belgium and his childhood was ruled by the number of football goals scored by the men in his family. At age 9, realising that Roberto would never become a sporting hero, his parents enrolled him at the Music Academy of Huy to study the rudiments of music theory.

During singing lessons, his teacher was impressed with his voice and encouraged him to pursue his training at a higher level. Roberto followed this advice and took on singing lessons. After acquiring more technique, he enrolled himself in a few singing talent contests, and decided to participate at The Voice Belgique. Backstage, he used to claim that his singing is mainly aimed to convey emotions to the audience. His young age, his soft and fragile tone of voice, seduced an increasing audience who largely voted for him during the rounds. Read more...
[

edit

]Featured Poll
Are you looking forward to the Eurovision Song Contest 2018?
Affiliation


If you want to find out all the news and gossip of Eurovision, you should read Wiwi Bloggs.
Wiwi Bloggs is one of the most famous and most loved blogs about eurovision, which got over 30,000 views overnight.
So, if you want to find out more about Eurovision, and about everything else inbetween, read Wiwi Bloggs.
Ad blocker interference detected!
Wikia is a free-to-use site that makes money from advertising. We have a modified experience for viewers using ad blockers

Wikia is not accessible if you've made further modifications. Remove the custom ad blocker rule(s) and the page will load as expected.