WELCOME TO THE

WIKI
The wiki about the Eurovision Song Contest that anyone can edit since June 8, 2012.
About
This is the Eurovision Song Contests Wiki. This is about everything Eurovision from participants to songs. Please make a page. The Wiki is gradually growing currently, so we'll appreciate all helpers. Just type the name of your new article in the box in the help section, click create and edit away! Though before you edit, please check our Blocking Policy here to see what is and what's not tolerated on this Wiki.
The Eurovision Song Contest
[

edit

]Featured Article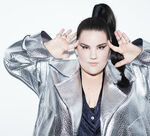 Netta Barzilai is an Israeli singer who was selected to represent her home country at the Eurovision Song Contest 2018 in Lisbon with her song "Toy". She went on to win the Contest with 529 points, giving her country its fourth victory.
[

edit

]Featured Poll
Are you pleased with the winner of the Eurovision Song Contest 2018?
Affiliation


If you want to find out all the news and gossip of Eurovision, you should read Wiwi Bloggs.
Wiwi Bloggs is one of the most famous and most loved blogs about eurovision, which got over 30,000 views overnight.
So, if you want to find out more about Eurovision, and about everything else inbetween, read Wiwi Bloggs.