Eurovision Song Contest 2019
Theme
Dare to Dream
Dates
Semi-final 1 date
14 May 2019
Semi-final 2 date
16 May 2019
Final date
18 May 2019
Host
Venue
Convention Center, Tel Aviv, Israel
Executive supervisor
Zivit Davidovich
Host broadcaster
Kan
Participants
Number of entries
42
Debuting countries
None
Returning countries
None
Withdrawing countries
Bulgaria
Voting
Voting system
Each country awards two sets of 12, 10, 8–1 points to their 10 favourite songs: one from their professional jury and the other from televoting.
Eurovision Song Contest
◄2018 {{{nex}}}►
The
Eurovision Song Contest 2019
will be the 64th edition of the annual
Eurovision Song Contest
. It will take place in Tel Aviv for the first time following the country's fourth victory at the
2018 contest
in Lisbon with the song "
Toy
", performed by
Netta Barzilai
. The contest will consist of two semi-finals and a final held on 14, 16 and 18 May 2019 respectively.
Location
Following much deliberation about where the 2019 Contest would be held, on 13 September 2018 it was confirmed that it will take place for the first time in Tel Aviv, a change from previous occasions when it was held in Jerusalem in 1979 and 1999 respectively.
Venue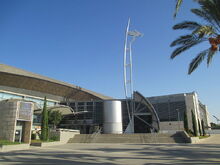 On 13 September 2018, the EBU confirmed that Tel Aviv would serve as the host city for the 64th edition of the Contest as well as confirming the venue.
The convention center was opened in 1959 and serves as a venue for a variety of events, including concerts, exhibitions, trade fairs and conventions. The Contest will take place in Pavillion 2, which has a capacity of 10,000.
Key
City
Venue
Capacity
Notes
Beersheba
Turner Stadium
16,126
Candidacy had been dependent on the construction of a roof.
Eliat
Hangars on the port
10,000
Proposal intended to connect two hangars to a hall, in order to meet the EBU's capacity and venue requirements.
Haifa
Sammy Ofer Stadium
30,870
Candidacy had been dependent on the construction of a roof.
Jerusalem
Pais Arena
15,654
Indoor arena similar to the venues of recent contests. It was Jerusalem's preferred venue, in case they were chosen to be the host city.
Teddy Stadium
31,733
Candidacy had been dependent on the construction of a roof.
Masada
Both candidacies had been dependent on the construction of a new venue.
Petah Tikva
Tel Aviv
Convention Center (Pavilion 2)
10,000
-
Participants
Semi Finalists

Finalists
| Country | Performer(s) | Song | Language | Translation |
| --- | --- | --- | --- | --- |
| France | TBD 26 January 2019 | TBD 26 January 2019 | French | |
| Germany | TBD 22 February 2019 | TBD 22 February 2019 | English | - |
| Israel | TBD February 2019 | TBD February 2019 | | |
| Italy | TBD 9 February 2019 | TBD 9 February 2019 | Italian | |
| Spain | TBD 20 January 2019 | TBD 20 January 2019 | Spanish | |
| United Kingdom | TBD 8 February 2019 | TBD 8 February 2019 | | |