Eurovision Song Contest 1960
Theme
No Theme
Dates
Final date
29 March 1960
Host
Venue
Royal Festival Hall

London, United Kingdom

Presenter(s)
Katie Boyle
Conductor
Eric Robinson
Director
Innes Lloyd
Host broadcaster
British Broadcasting Coporation (BBC)
Interval act
Eric Robinson's Orchestra
Participants
Number of entries
13
Debuting countries
Norway
Returning countries
Luxembourg
Withdrawing countries
None
Voting
Voting system
Each country had 10 jury members who each awarded 1 point to their favourite song.
Nul points
None
Winner
France
Eurovision Song Contest
◄1959 1961►
The 
Eurovision Song Contest 1960
 was the fifth edition of the Eurovision Song Contest. It was held on Tuesday 29 March 1960 in London. Although the Netherlands had won the contest in 1959, the Netherlands Television Foundation declined to host another contest so soon after staging the event in 1958. The honour of hosting the contest therefore passed to the United Kingdom, which had come second in 1959. Therefore, the BBC chose Catherine Boyle (as she was then known) to be the mistress of ceremonies at the contest for the first time. France's win this year was their second in the contest. The contest was won by France with the song 
"Tom Pillibi"
, performed by Jacqueline Boyer.
Location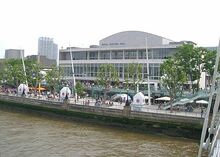 The 1960 Eurovision Song Contest was hosted in London. The Royal Festival Hall, the venue for the 1960 contest, is a 2,900-seat concert, dance and talks venue within Southbank Centre in London. It is situated on the South Bank of the River Thames, not far from Hungerford Bridge.[2]
The result was a win for France, however Germany, Monaco and the UK led in the early stages of voting. The UK came second with 25 points, four more points than the winning song in 1959, and Monaco came third on 15 points making up for their disappointing début result the year before.
Participating countries
Interest in the contest started to grow across Europe, with the number of participating nations increasing to 13 this year. Norway made its debut with one of their leading jazz singers. Luxembourg returned to the contest after a one-year break with a song in native Luxembourgish language. The Netherlands were mistakenly announced as Holland (which is only the western part of the country of The Netherlands).
Conductors
The conductors of the orchestra for each country's performance were:
Returning artists
The contest saw the return of one artist who had participated in its previous editions, with Belgium's representative Fud Leclerc, who previously represented the country in 1956 and 1958.
Results
Ad blocker interference detected!
Wikia is a free-to-use site that makes money from advertising. We have a modified experience for viewers using ad blockers

Wikia is not accessible if you've made further modifications. Remove the custom ad blocker rule(s) and the page will load as expected.